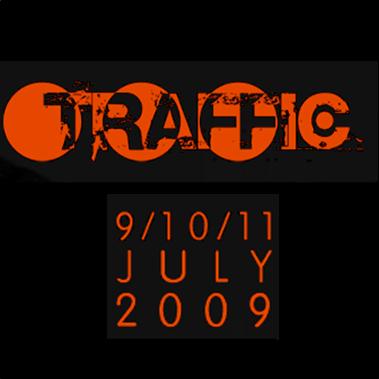 It started at the begin of the week, with a first round of art openings: Torino reloaded, Antony Hegarty and My Beautiful Disco Party of Luca Saini.
It will continue with a lot of events spreaded in prestigious locations in Tourin: Accademia di Belle Arti, Politecnico, Reggia di Venaria Reale and many more.
We are talking about the 6 Edition of the Traffic Festival, the most important "free music festival" in Italy that offers not just music but also cinema ("Cave at the movie", a tribute to Nick Cave and his actor's career, and a special "Profondo Rosso" remake), art, meetings. This year music site is the big and beautiful garden of Venaria Reale. Music and historical location matched togheter, it's possible and not only for classical music, Polkadot is pleased that rock music is allowed. During the day around the city, in the evening in front of the stage and after the gigs all the night at "Giancarlo", the popular undeground club in the heart of the city centre, Murazzi.
What about headliners?
Thursday july 9th: Nick Cave and the bad seeds (+ St. Vincent). The popular Australian songwriter ang his historical band are surely the most important artists of the Festival. Annie Clark aka St. Vincent is a little young girl coming from Oklahoma, she plays a sweet pop, and she's really lucky to open Cave.
Friday july 10th: Primalscream (+ Ladytron). Opening with Ladytron, electro pop-wave from Uk and then the return of the big Primalscream, the scottish band of Bobby Gillespie!
Saturday 11h: Underworld (+ Santigold + Croockers + Bloody Beetrots). The closing day is dedicated to electronic clubbing scene, probably starting with Santigold (Santogold before, why? Polkadot hopes she will tell the reason of the new name) the eclectic artist, good revelation last year, mixes new wave, dub, electronic with pure armony. And Underworld, the duo comes from Uk and is really popular, expecially during the nineties thanks to "Born Slippy" one of the song into the Trainspotting Sountrack.
The line up is less reach than the last editions but not lower in quality of music. Polkadot is just a little bit in doubt about Croockers and their performance, looking at the last time in Milan during the Design Week.
As usual the line up moves from rock and indie rock music to electronic. Let's enjoy it.  www.trafficfestival.com