Reclaim the Dancefloor is the brand new offering from Ibiza's premier live music promoters – an innovative and talent driven club night that will deliver the very best international DJ's at Eden every Tuesday following Ibiza Rocks, from 16 June to 8 September.
Boasting an exceptional line-up that includes an incredible FIVE appearances from musical genre blending masters, 2manydjs, Reclaim the Dancefloor will also bring Radio 1's Zane Lowe and Kissy Sellout, dynamic dance duo Digitalism, DJ sets from festival headliners Pendulum and rising stars Chase & Status into the mix.  Together with a whole host of other hot names and cutting edge sets in the second room from some of the live acts playing Ibiza Rocks, Reclaim the Dancefloor is the next crucial step in the regeneration and rejuvenation of San Antonio and in Ibiza, generally.
Booked for what will be five phenomenal performances, 2manydjs said: "We've always really liked the vibe playing live at Ibiza Rocks over the past couple of years so getting involved with Reclaim the Dancefloor! was an easy decision. The line-ups are going to be very special for us and the people in Ibiza. This is exactly what the island needs right now and we are very glad to be a part of it."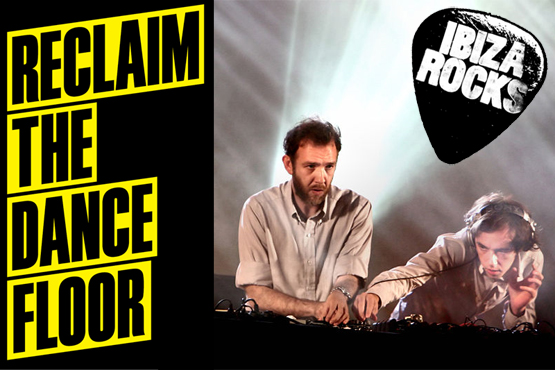 Bringing young, fresh club promoters into the fold further feeds the needs of the younger generation and fulfills the next step in the evolution of the island, driven by Ibiza Rocks.  Advance ticket purchases offer access to not one, but two top nights – e.g Vampire Weekend (18/8) at the Ibiza Rocks Hotel will also give free entry* to see 2manydjs headline at Eden – incredible and affordable packages and line-ups all summer long!  Tickets available now at www.ibizarocks.com, priced £28.50 – £37.50 plus booking fee.
Confirmed Talent So Far:
16 June Opening Party with 2manydjs / Steve Aoki / Cassette Jam (Ibiza Rocks Hotel: Ibiza Rocks Opening Party)
23 June Chase & Status / Kissy Sellout / Toddla T
30 June Brodinski / Aeroplane / Matt Walsh (Ibiza Rocks: The Kooks)
07 July Kissy Sellout / Fake Blood / High Contrast
14 July Chase & Status /Sinden / Rusko  21 July 2manydjs / Steve Aoki / Aeroplane / Joe and Will Ask
28 July Boys Noize / Fake Blood / DIM / Housemeister / Mix Hell (Ibiza Rocks: Pendulum)
04 Aug 2manydjs / Skream / L'Amour La Morgue (Ibiza Rocks: The Enemy)
11 Aug Pendulum DJ set / Scratch Perverts / Fake Blood / Sinden (Ibiza Rocks: Dizzee Rascal)
18 Aug 2manydjs / Brodinski / Matt Walsh (Ibiza Rocks: Vampire Weekend)
25 Aug Pendulum DJ set / The Bloody Beetroots / Sinden / Benga (Ibiza Rocks: MGMT) 01 Sept 2manydjs / Fake Blood / Junior Sanchez / L'Amour La Morgue
08 Sept Closing Party with Digitalism / Caspa (Ibiza Rocks: Closing Party with Klaxons)