Sonoro audio GmbH & Co. KG is a designer and engineer of distinctive, high quality audio products. Sonoro products are recognized as innovative, easy to use and distinctive by numerous experts in the consumer electronics and design fields.They have been distinguished with two Plus X awards — a prestigious consumer electronic distinction in Europe, the USA's Consumer Electronics Association (CEA) Innovations award; and two of the international design industries most prestigious reddot awards. Discover all the models after the jump…
Cubo (369€) is a distinctively designed, luxury, clock radio and CD/MP3 player. cubo enhances any environment with its colourful sleek shape and superior sound quality. High tech audio buffs and design and decorating enthusiasts can accentuate their home, studio and office in style.
Elements AM / FM clock radio ( 225€ )produces clear robust sound and boasts an eye-catching, sleek, award-winning German design.  With a compact form and unique, handcrafted, curved-corner all wood encasing in high-gloss, black or white lacquered finish, elements makes a beautiful addition to a home, office, design studio, or hotel while creating optimal audio acoustics.
Eklipse ( 499€ )is ideal for music enthusiasts who desire compact home audio solutions, eklipse offers AM / FM radio, CD / MP3 player and a integrated dock that plays Apple® iPod® products for quick home access to playlists. With 218 million Apple® iPod® devices sold worldwide, compatible systems offer consumers an additional way to enjoy their music collections.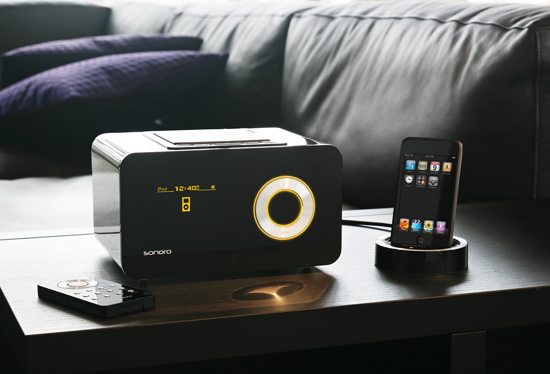 Elements W ( 399€ ) is an Internet radio with media streaming, in addition to FM tuning.  elements W connects music lovers to thousands of worldwide Internet stations via Wi-Fi or a standard LAN cable and updates stations everyday with new and exciting selections.  It can also access and play music libraries directly from a computer, such as those loaded into iTunes.  With the purchase of the matching sonoro eDock, elements W can also play and recharge iPods.