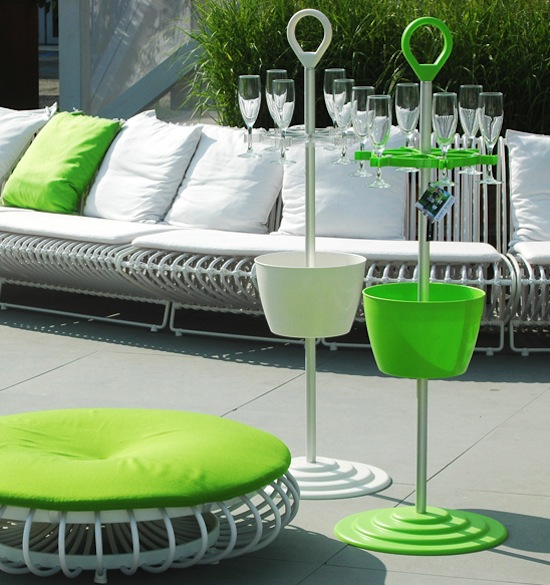 Easy Stand è un oggetto dalle linee alquanto originali che coniuga insieme dei comodi reggibicchieri con un frappeuse, il classico secchiello porta bottiglie e ghiaccio.Ideale per i party con gli amici, le cene in famiglia nei momenti di festa e perfetto in occasionedi cene aziendali o all'interno di svariate locations per servizi di catering, Easy Stand renderà piùfacile e pratico servire l'aperitivo o offrire semplicemente da bere.
Easy Stand permette di alloggiare i bicchieri sia vuoti sia colmi di bevande, pronti per essere portiagli ospiti, grazie ad un solido gancio che ne consente la tenuta anche nel caso di movimenti.La struttura di Easy Stand è completamente in alluminio, rendendolo molto leggero, maneggevolee facile da trasportare. Grazie ai materiali con cui è stato prodotto è adatto sia per una festa ingiardino, godendo ancora di qualche raggio di sole, sia per una cena nel salotto di casa o nei grandisaloni di eleganti hotel e ristoranti.
Easy Stand è in vendita su SoloAltoDesign in esclusiva per il pubblico web. ed è disponibile in cinque diverse varianti di colore:
• Per la Class Collection: Avorio e Fumé
• Per la Party Collection: Fucsia e Verde
• Per la Event Collection: Rosso
Easy Stand sposa insieme innovazione, originalità, sofisticatezza e utilità, comun denominatori dimolti dei prodotti offerti da SoloAltoDesign. Easy Stand è un prodotto registrato di G.A.P. Design, innovativa agenzia del panorama torinesenata da un'idea imprenditoriale di Elena Garnero e Sara Pezzetti.
Easy Stand, a registered design product of
G.A.P. Design
, is an original idea. It is a glass and ice bucket stand that can be used for your parties, happy hour or special events in general.It is possible to hold full or empty glasses in their place since the hook fixes them safely, even whilst moving. The practical handle allows comfortable transportation.
Easy Stand is available in five different colours:
• Class Collection: Ivory and Smoked
• Party Collection: Fuchsia and Green
• Event Collection: Red
Easy Stand is on sale exclusively on SoloAltoDesign website.