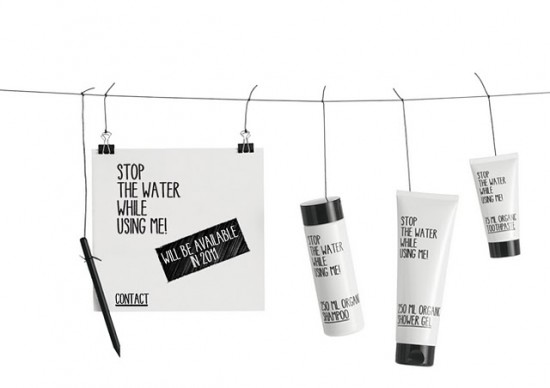 Stop the water while using me: è questo il nome di una nuova linea di cosmetici che ha fatto della filosofia ecologica la sua bandiera, dal packaging biodegradabile a materiali ed ingredienti impiegati, esclusivamente naturali ed organici.
La marca presenterà a marzo la sua seconda linea di prodotti, dopo la prima, disponibile solo online e composta da shampoo, shower gel e dentifricio. Il design dei prodotti è ridotto all'essenziale, semplice ed elegante: black and white, con logo ben leggibile sul packaging, che ricorda ai clienti di essere eco-friendly ed evitare sprechi di acqua.
Il brand, entrato l'anno scorso nella shortlist dei Cannes Lions 2010, è opera dall'agenzia di pubblicità tedesca Kolle Rebbe, con sede ad Amburgo, ed è stato creato per l'azienda T.D.G. Vertriebs & Co.