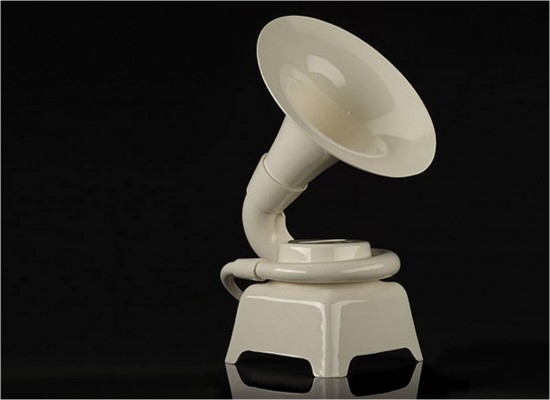 "A beautiful reinterpretation of the past, the Phonofone may be the heirloom keepsake of early 19th century technology."
Wish list time? For you, nostalgic geeks or 2.0 coquettes, Canadian designer Tristan Zimmermann invented the Phonofone (model II, in particular). In short, the Phonofone is a speaker for your Ipod/Iphone which needs no power or batteries:  it's enough to hook up your ear buds and the Phonofone, through passive amplification alone, boosts the audio output up to 55 decibels (more or less the maximum volume of a laptop speaker). Entirely made of ceramic, not only environment friendly, it takes advantage of the material's "rigid and resonant" qualities in its application of producing sound.
If the Phonogram was the first device for recording and playing sound, the Phonofone is the first device to bring an elegant form to the marriage of old and new technology.