Lolita Ankle Socks
The perfect way to add a bit of charm to beautiful dresses or gotholita costumes
Lolita black ankle socks are the perfect way to add a bit of charm to beautiful dresses or gotholita costumes. They are not very common, which may make them more exclusively desirable. When paired with the right outfit they truly perk the essence of the entire look to not only become impressive, but make the wearer feel confident and stylish.
Three Common Types of Lolita Black Ankle Socks
There are some variations of a Lolita ankle sock, but what exactly is a Lolita sock? Often used in Victorian style outfits and other outlets, these socks give a dramatic and beautiful look by the materials they are made of. Depending on the material will depend on what kind of outfit it would pair best with. Below are the three most common types of Lolita socks.
a piece of art worn among the feet. The tops of the socks are generally accompanied by loose elastic to keep it from slipping down the ankle. 
are ones that feature a colored trimming at the top. The sock itself is black to stay within the dark color scheme of Gothic attire, however, the trimming at the top can come in various colors such red and white, red, etc. This type presents a flare of color that can be easily matched with tie-in colors within an overall outfit.
are black mesh and typically have a ribbon at the top to tie so the sock does not slip down the ankle. The ribbons can come in any color, but most commonly are featured in darker colors like navy blue, deep reds, etc.
Pairing Lolita Ankle Socks with Gotholita Costumes
Gotholita costumes are gorgeous Goth attire that are usually black dresses. These dresses can be plain black or feature various prints on them like coffins, etc to really give them unique character. When paired with the right the of Lolita ankle socks, the whole look gets elevated! These costumes and their strong character look great with the colored trimming Lolita socks. This is primarily because the colored trimming will be located somewhere else on the details within the dress.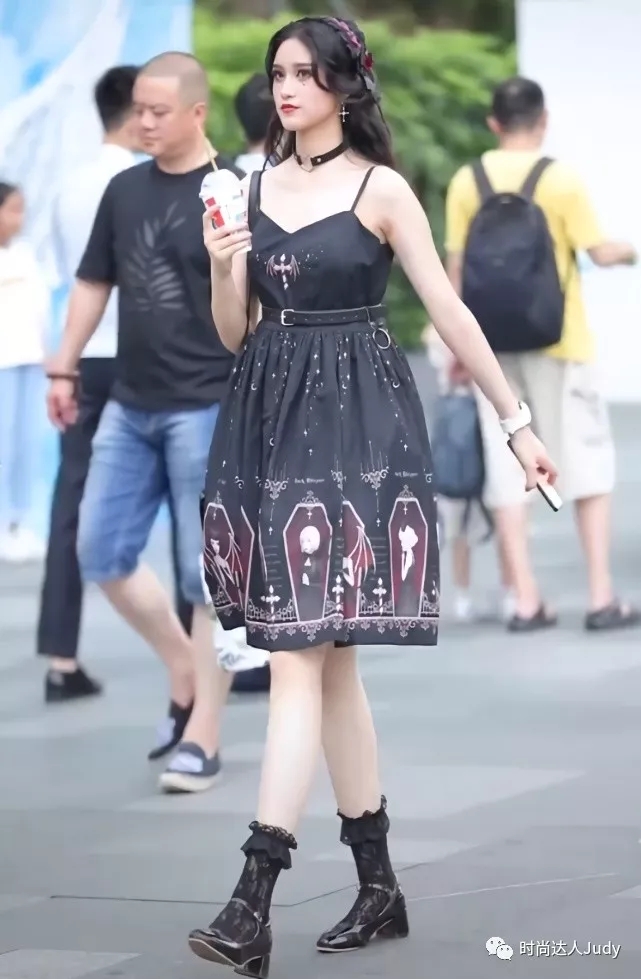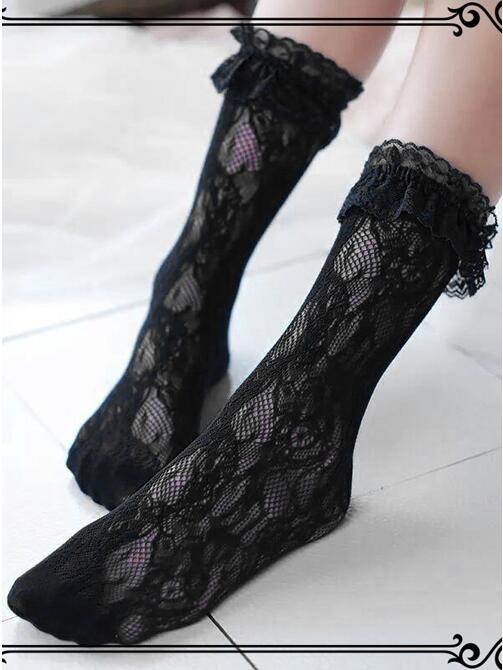 Matching a colored trim with a tie-in color on a Gotholita costume makes for perfect pairing. A general rule for matching in any fashion sense, is to compliment the wardrobe. It can be argued (and rightfully so!) that an all black attire makes for a very sharp look! That type of matching is truly gorgeous. However, that type of matching does not translate well with other color schemes. This could be because black is considered as a neutral color. When other colors like pinks or purples etc get overly matched, they become washed out and too bold.
Even though a solid black color scheme comes off beautifully, having a bit color splashed in there really heightens everything. For example, tie-in colors for Gothic clothing or Gotholita costumes are generally dark reds, whites, grays, etc. The perfect pair of Lolita ankle socks to compliment this type of look would be a color trimming of the coordinating color. It provides a streamlined look that gives confidence and flare to whoever may be wearing the outfit.
Lolita Dresses and Lovely Lolita Ankle Socks
Probably one of the most attractive ways to wear a pair of Lolita ankle socks is with a Lolita dress. These luxurious dresses come in many color schemes from soft whites, dark reds, navy blues, black, etc. Often times they are decorated with elaborate floral prints, bows, or even dark characters or story telling scenes. These dresses mimic a Victorian era sense of fashion, as is common with the Gothic style. They feature puffy bottoms with petticoats underneath and layered colors on top. The torsos are usually narrowed in, like a corset effect, to create a truly defined look.
With so many different styles available, picking just one would be difficult! But alas, no matter what type of Lolita dress is worn, there is always a Lolita ankle sock to match its style. Considering the various color schemes that can be associated with these types of dresses, all three common types of Lolita ankle socks can be worn with a Lolita dress. Not only are the color schemes a huge part of these dresses, but the materials are as well. Matching a specific material with various accessories such as socks gives a completed look to the outfit.
Matching Lolita ankle socks with these dresses also creates an echo or flow throughout the outfit. The pure elegance associated with the perfectly paired socks makes the dress even prettier. While that may not seem possible, it truly is! Whoever wears the dress with the paired socks will know that from head to toe they are stylish! This will bring them great comfort in their lolita fashion choice!
The world of Lolita clothing is full of exciting looks for any style taste. While Lolita socks are not very common, they are truly a gem to see or wear! From Gothic clothing to Gotholita costumes to Lolita dresses, these socks provide the perfect look and level of comfort for any personal taste!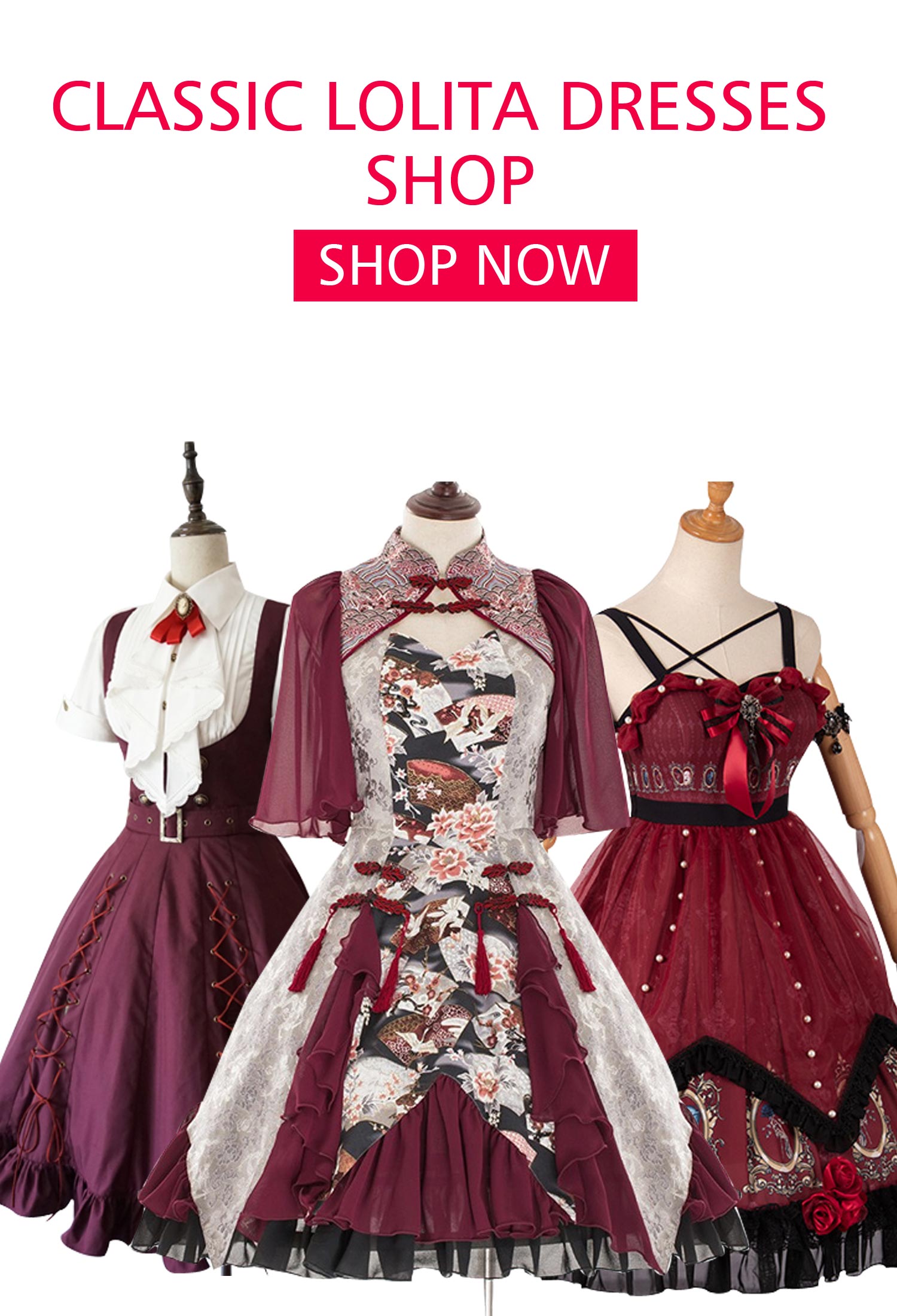 Potrebbero Interessarti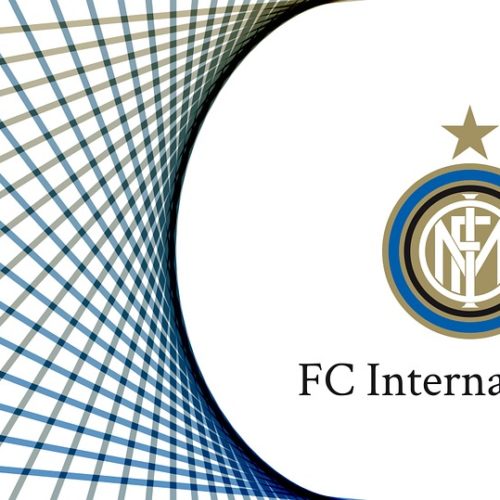 Quanto peserà in casa nerazzurra la vendita al PSG del fortissimo quinto di destra?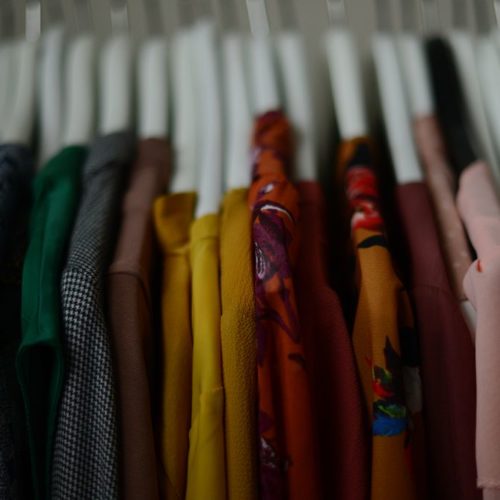 Una buona pianificazione aiuterà a risolvere tanti drammi last minute
Ci vuole davvero poco per rendere l'ambiente perfetto per godersi l'aria aperta
Ultimi Articoli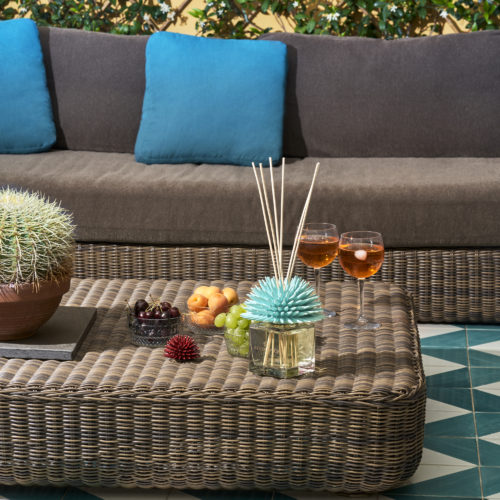 Arte, design, e un pizzico di Capri
Si ispirano alla natura, alle sue linee organiche, e all'armonia che si trova nei paesaggi nordici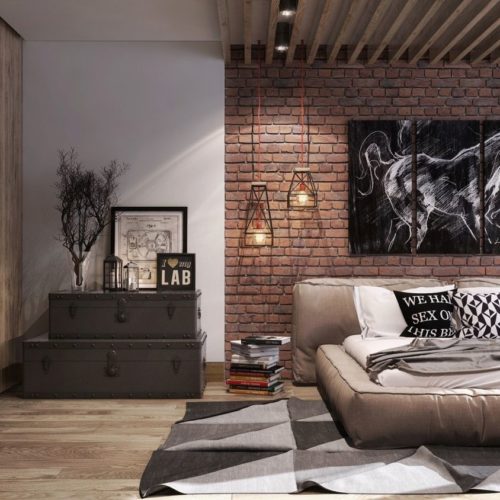 Alcune idee per dare un tocco originale agli ambienti