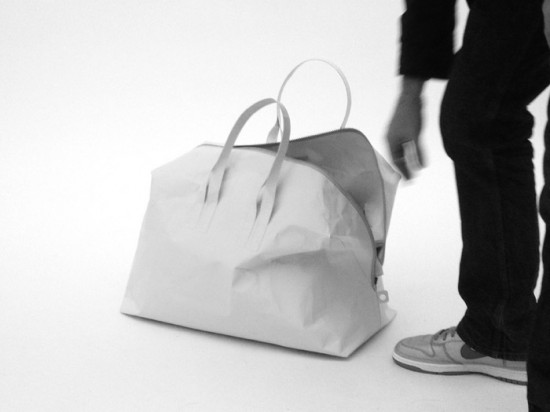 Take up the familiar, give it further thought and add something new: A collaborative project between Saskia and Stefan Diez, the"Papier" series is an experiment in revising the classical typology: the two designers have pointed out the basic requirements to a travel bag – durability, protection and light weight – and sought for an appropriate material other than the traditional choices of leather and reinforced textiles.
The "Papier" bags are made of Tyvek®, a synthetic paper that is extremely lightweight – 135g for the biggerand 115g for the smaller bag – but at the same time exceptionally robust, both water- and tear-proof. The material is completely recyclable. Apart from that, one will appreciate the high-end finishes applied to such seemingly banal material as paper. Silkscreen printing techniques gives it a particularly attractive look. "Papier" won the German Designpreis 2010. The two main models ( Papier 115 and Papier 135) are on sale on Saskia Diez online store, starting at 99€.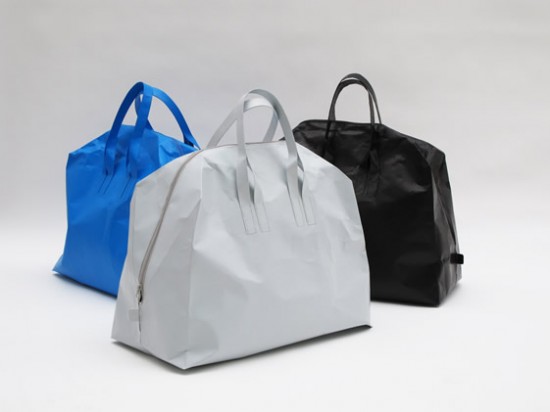 After completing her training as a goldsmith Saskia Diez decided to study industrial design. It was essentially coincidence that led her back to jewelry design. And you can clearly discern the perspective of design in her informal reduced products. Jewelry pieces by Saskia Diez are light and not flashy. When viewing them you can immediately spy the luxury of reflection. Not least of all they elicit a unique beauty. Her jewelry was recently awarded the "Premium Fashion Award" for the best new accessory collection of the fall / winter 2009/2010 season at the Premium fashion fair in the context of the Mercedes Benz Fashion Week in Berlin.