Strida
The sleek form and clever functionality of British designer Mark Sanders' foldable bike Strida have been earning accolades in Europe for over a decade. Inside a triangular frame of lightweight […]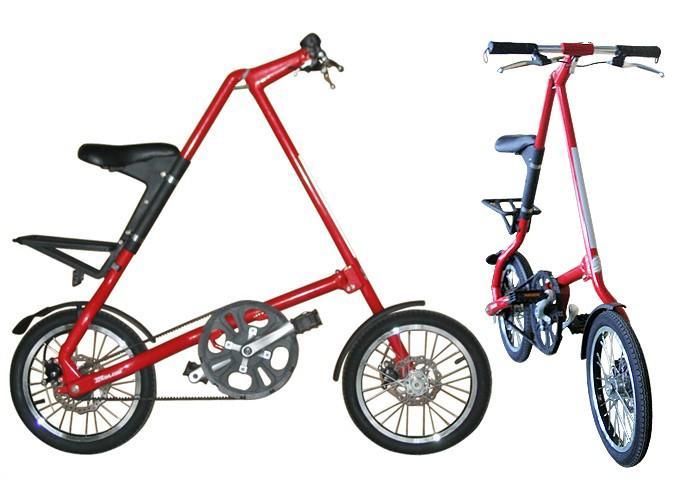 The sleek form and clever functionality of British designer Mark Sanders' foldable bike Strida have been earning accolades in Europe for over a decade. Inside a triangular frame of lightweight aluminum, power is transferred to the rear wheel via a silent clean Kevlar belt. Handlebars are mounted horizontally so the rider can sit comfortably upright with an excellent view of the road. The genius of the triangular frame is that it can quickly fold. In five seconds, you have a light, compact form that you can easily wheel, stow in a closet, load in your car or take on the train.
What sets the Strida 5.0 apart from other collapsables is its tripod-like frame which folds easily into parallel tubes. Unfolded, the tubes form a triangle – handlebars and wheels occupy the three points and the adjustable seat slides along one side. The unique, patented frame streamlines the design and makes fold-up quick and easy – Strida boasts a six second shift from expanded bike to folded traffic-averting accessory.With Strida instead of being stuck in traffic you can ride where you want, and then fold your bike up and take it with you. On sale at SuperFly Deluxe.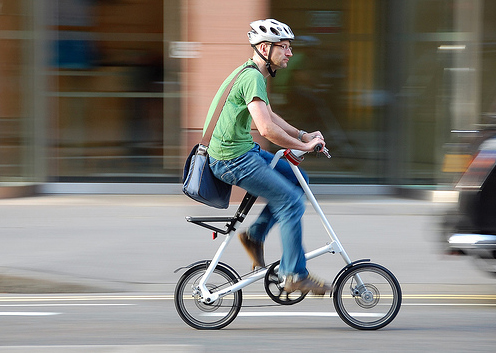 The Strida was designed by Mark Sanders in the mid 1980s; it was featured by the Design Centre in London, and won awards at the 1988 Cyclex for best new machine, best British product and best in show. With its striking appearance, it gained a great deal of publicity. Although some 25000 Stridas were made between 1987 and 1992 (ref: "It's in the bag!"),  the company closed in 1992 after being over-ambitious in its rate of expansion, and running out of cash – with outstanding orders for 2,000+ Stridas. However, as with some other folders, the design was resurrected some years later, and the Strida has been back in production for a few years now.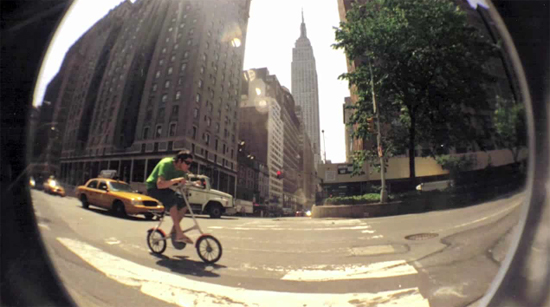 Sanders designed his bike with the urban commuter in mind. "Transportation means freedom," says Sanders, "and a folding bike is even more freeing than a regular one since you can literally take it anywhere." The bike is made of lightweight, rustproof aluminum and comes in a wide variety of colours, from blue to retro cream (with, natch, caramel-coloured components). A belt made from Kevlar replaces the more traditional metal chain – good news for anyone who's ever biked to work, only to discover nasty grease spots on recently dry-cleaned trousers.
The most striking aspect of the Strida is its triangular frame. Sanders' design offers both a stable, smooth ride and ease of foldability: just unlock the crossbar, then align it to the post supporting the front wheels. Magnets in the hubs of the wheels help lock them together, creating a device that's easy to push along, or hang discreetly in a closet. It's also relatively light – according to BusinessWeek reviewer Cliff Kuang, it weighs 19 pounds. On sale at SuperFly Deluxe.
Potrebbero Interessarti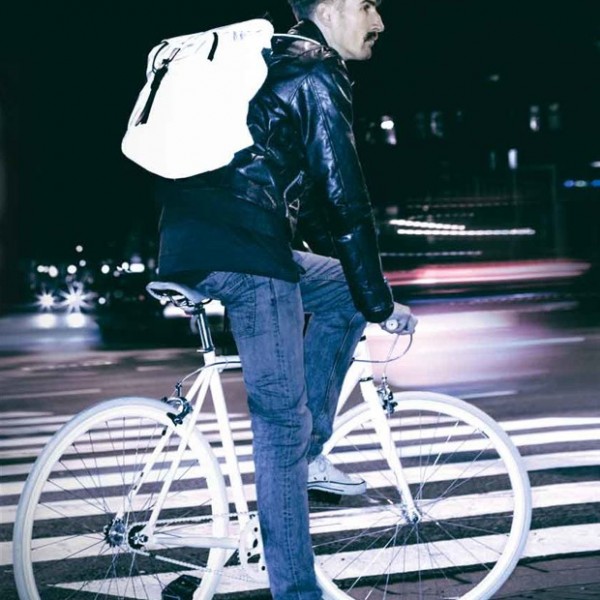 Ispirata dalla forte cultura ciclistica di Amsterdam, il brand Property Of… ha da pochi mesi rilasciato una nuova Amsterdam Series di zaini realizzati con un tessuto riflettente unico, un connubio […]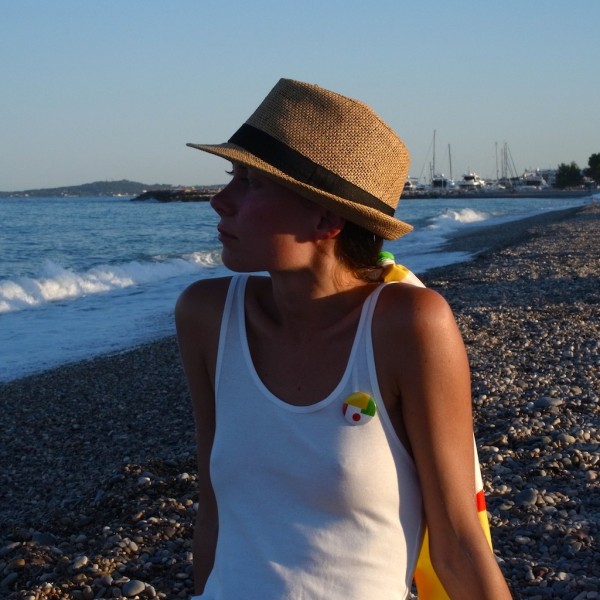 È per questo che adoro scrivere. Non per interpretarmi nello specchio delle parole – non mi chiamo Giovanni Pascoli – nemmeno perché "Il bello è che scrivere è un altro […]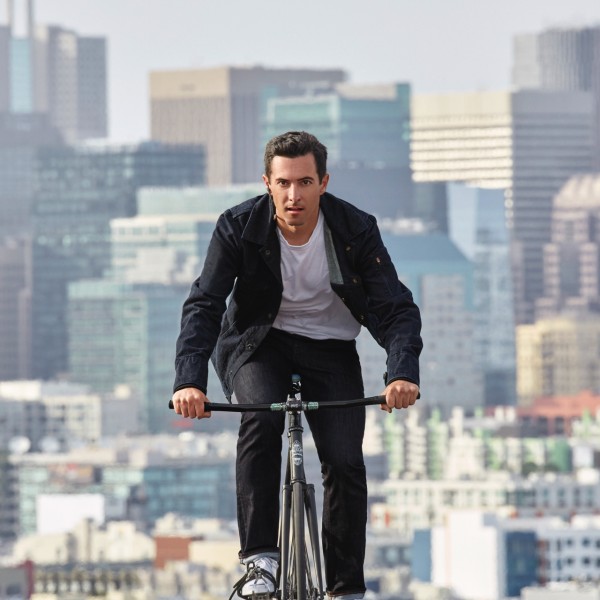 Si chiama Levi's Commuter x Jacquard by Google Trucker Jacket. È la prima giacca con wearable technology nata dalla collaborazione fra Levi's e Google ATAP (Advanced Technology and Projects) Group. […]
Ultimi Articoli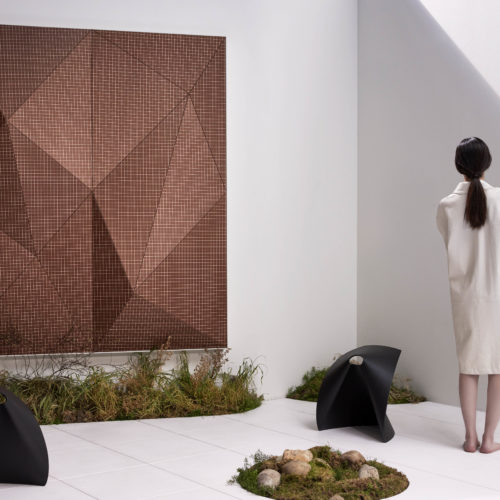 L'azienda italiana Wood-Skin lancia una nuova collezione di rivestimenti per parete in legno che giocano con luci e ombre.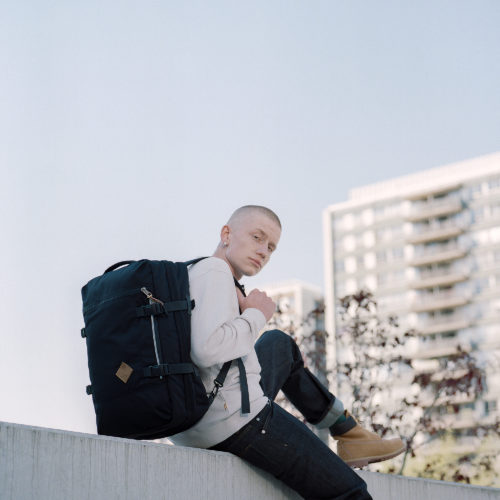 Sostenibilità, resistenza, autenticità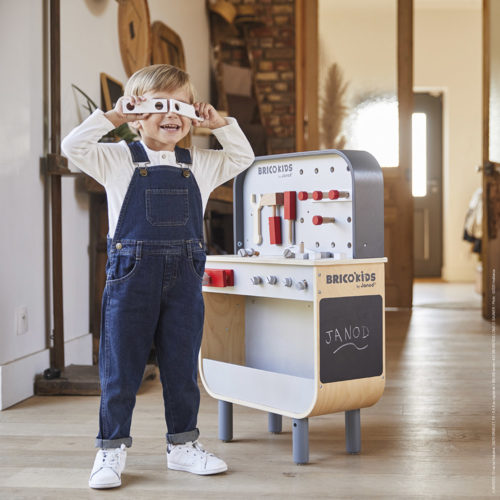 Giocattoli semplici ed essenziali per lo sviluppo del bambino