MOSCOT has been a New York City institution for over 90 years. Patriarch Hyman Moscot began selling eyeglasses from a pushcart on Manhattan's famed Lower East Side in the early 1900s and the rest, as they say, is history.
Today, fourth generation Moscot siblings, Kenny and Dr. Harvey Moscot, run the company. Each MOSCOT location offers a selection of more than 1,000 frames from a wide variety of well-known eyewear and sunglass designers, as well as a comprehensive inventory of contact and eyeglass lenses, and the company's very own branded line of vintage-inspired glasses and sunglasses, the wildly successful, MOSCOT Originals. MOSCOT's newest line, MOSCOT Spirit, remains true to the company's classic downtown identity by mixing elements of the Originals with modern new styling.
They have announced the launch of seven brand new frame styles that will have heads turning and tongues wagging. MOSCOT appends its highly coveted, MOSCOT Originals collection with three bold and exciting new frame styles – two ophthalmic frames and 1 new sunglass style – The Ginger, The Theroux, and The Zulu. The company also adds four new styles – one ophthalmic and three sunglasses – to the MOSCOT Spirit collection, which seamlessly blends progressive styling with classic details.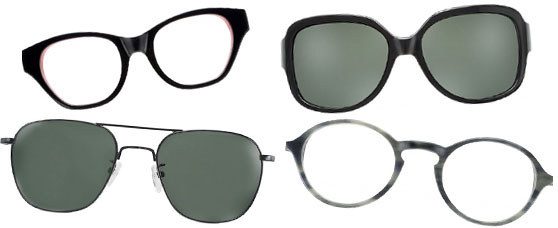 Morover, its best selling eyewear collection, The MOSCOT Originals, are now available for purchase at colette, Paris' best known and most beloved lifestyle store, and a favorite of fashionistas and bon vivants the world over. The newly-made frames are based on styles from the MOSCOT archives from the 1930s, 40s, 50s, 60s and 70s, retaining all of the authenticity of the original frame style right down to real glass lenses in our sunglasses, traditional hardware, and lens colors that precisely duplicate the true old school colors first fabricated by the company in the 1940s. The faithfully reproduced collection is available as eyeglasses or sunglasses, with or without a prescription, in a variety of frame and lens color combinations and sizes. And if you are not in Paris, you can order your favourite frames from Moscot and maybe look like a star…