The guys in the video come from a country loved for its stout, Ireland. This five-piece of incredibleness indie rock with strictly no keyboards allowed has produced an energic EP called Barbs. We are talking about Bouts. The first single is called "We Tried" features dragging guitars and beats and the rest of their EP is only waiting to be discovered. So, read the post, go to Bouts website and turn up the volume.
Well, first question, how are you guys?
How are we? Pretty good! We've just shot video number two from the EP for "Barbs". That should be online next week. We have a couple of shows coming up in Dublin and one in outside Dublin in Monaghan (hometown of two of Bouts, our drummer Colin, and our guitarist Colin). We've done our first radio session and are very very busy rehearsing a LOT of new songs.
Tell us a bit of you, how did you get together?
We came together from a number of previous bands in late 2009. Colin and Daniel actually used to play together before Bouts in a band called Green Lights. Colin moved to Tokyo, Japan for a year. My previous band Lines Drawing Circles broke up and Daniel & I got together and Bouts was born! Our other original member was Nigel (keyboards) and we recorded and released our debut album in September 2010. Shortly after Nigel moved to Canada and Daniel and I just kept rehearsing – we never gigged! – until we asked Colin and Niall (bass guitar) to join. We then thought it was time to finally get out into the world!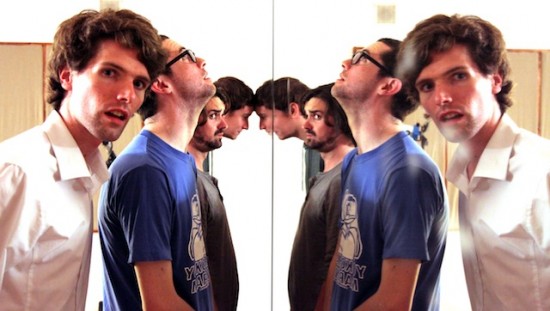 Reading your band tags.. I was quite suprised and amused by two of them: heart-on-sleeve loud indie and incredibleness…
I mean, finally a good and interesting way to describe your music.. Can you explain that a bit?
"heart-on-sleeve loud indie" that basically means loud, heartfelt, guitar-driven melodic indie! "Incredibleness"… well we had to make up a word to describe how utterly unique and brilliant we really are :-)
What's the story behind your first EP "Barbs"?
For the first EP Daniel and I rehearsed alone for about 5 months before the others joined. We had about 20 songs and from those came the four on our new EP. But it wasn't until Colin and Niall joined that they really took a final shape. Our inspirations were to progress musically from the debut album. We wanted our songs to be louder, more refined and developed as ideas. We want them to be lyrically intelligent and musically satisfying. I think there will always be a pop edge to what we do.
Have you ever been to Italy? What would you image your first gig to be?
All of the band have been to Italy on holiday at various times. Cities we've all visited include, Milan, Turin, Rome, Venice, Trieste & Florence! We know and really love the country. It would be great to play something like Italiawave but if someone was to offer to bring us over for some Italian dates anytime in the future I don't think we'd say no!
Why Polkadot readers should listen to Bouts music?
Polkadot readers should listen to Bouts because we're a brand new Irish power pop group that combines all the best bits of Weezer, The Pixes and Death Cab for Cutie into something and familiar and different at the same time.
So…Listen up to Bouts.
www.gimmebouts.com
http://wearebouts.tumblr.com/
http://twitter.com/#!/gimmebouts
http://soundcloud.com/boutsmusic