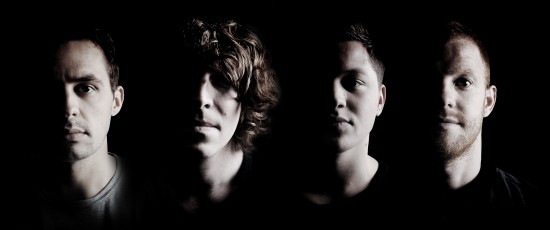 Hailing from Scotland, Stevie Jukes (vox/guitar), Barry Cowan (guitar/vox), Gordon Phipps (bass) and Al Jukes (drums) are the Vigo Thieves, a bunch of friends who started playing in 2008 just for the love of music. The four-piece is now writing new songs and getting ready to step eargerly forward into 2012. Out today is their brand new EP called Heart & Soul (part 1) which title is absolutely in line with the musical mood.
The guys opens the EP with "Wide Awake", one minute of instrumental tunes which create a close relationship with the listener. "Steal your Heart" is the real opening track which melodies remind of Simple Minds and express the romantic soul of the EP. "Heartbeats" is driven by pressing beats and explosive synthesizer which gives the listener the feeling of swinging. "Love is Dead" opening is a clear recall of the 80s sound which accompany the entire track. She is on Fire surprises the listener with brilliant chorus and back vocals.
They do deserve a listen. Check them out.
Vigo Thieves // Heart & Soul (part 1) // Hijacked Records