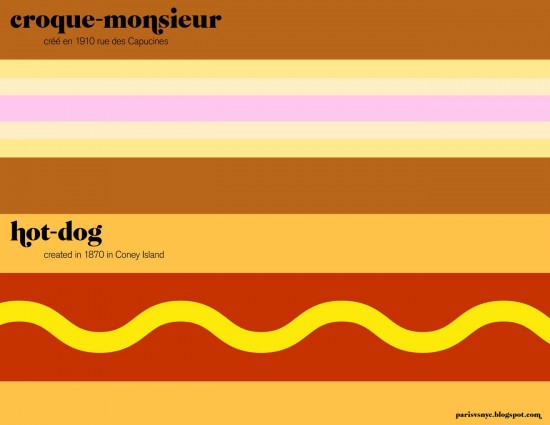 Dreaming of a pied-à-terre in Montmartre or of a loft in Upper East Side? Having a baguette for dejeuner or a bagel for brunch? Fan of Stars and Stripes or of blue-striped tees by Jean Paul Gaultier?
All these contrasts and dichotomies between two cities, two visions and two ways of life are brilliantly described in a minimalist and witty style by graphic designer Vahram Muratyan, who describes himself as a "lover of Paris wandering through New York". He displays a "friendly visual match" between the Big Apple and the Ville Lumiere through an eye-candy collection of visual comparisons. Food, fashion, houses, up to beards, sports and movies, no aspect of being a Newyorker or a Parisienne is abandoned.
Once a brilliant blog, now also available in form of book.