Toilet paper is inside almost (I hope) every house, and do his job without any complaint or gratitude. Everybody knows that it is very important for us, and many people is trying to give it what really deserves: the fame!
Toilet Paper has been renown for being a fascinating and inspiring art magazine, edited by contemporary artist Maurizio Cattelan, and the photographer Pierpaolo Ferrari.
Recently in partnership with Le Dictateur Gallery, homeware company Seletti, fashion brand MSGM, design brand Gufram…, This mag is helping the reputation of the white sheet!

Many artists phisically work with the real roll as the Japanese artist Yuken Teruya who partecipated to the last edition of Art Basel, leading fair of art hosted in Basel, Miami and Hong Kong. His work "Corner Forest" is a forest cut-out from the toilet cardboard roll. The artist says: "Toilet rolls sprouting and spreading branches are installed to a wall to create a forest. There is a moment when the cut-out branches and leaves start holding themselves up with their own strength. It is as if I am helping the paper awakens its ability to come to life."

Turkish artist Sakir Gokcebag, who concentrates on installations using ordinary materials like fruit and brooms, to build geometries and spaces. In "Trans-layers" he uses the soft form of the material to shape the wall. The result is like poesy.

French artist Anastassia Elias, less famous but however interesting, builts worlds inside the rolls, let them live their own life as a separate world where thing happens without other knowing it.

Also, surfing the internet we can see that someone started thinking of decorate the house with this easily to find material, many blogs suggest to cut the cardboard rolls and put together to build some decoration like this below: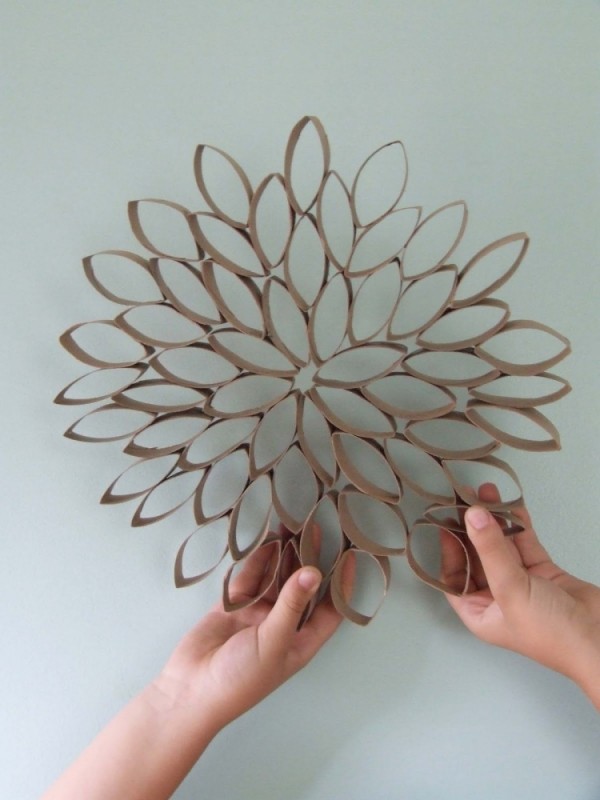 Last but not least Ana Bidart, Uruguayan artist,works mainly with paper. In "The roll of statistics" uses similar rolls, the paper rolls used for cash machines, carved as a sculpture.

Do you know any other use of TP?